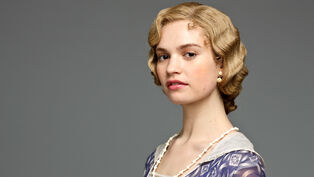 Lady Rose Aldridge (nee MacClare) is a character on the series, Downton Abbey. She was played by actress Lily James.
The younger sibling in lieu of Sybil
Lady Rose was the youngest daughter of Hugh "Shrimpie" MacClare and Susan MacClare, the Earl and Countess of Flintshire. She has two older siblings, an older brother, James, called the Earl of Newtonmore; and an older sister, Annabelle, who was married. Rose was very much a modern young girl, much like her second cousin, Lady Sybil Branson.
We first meet Rose when the Crawleys visit her estate, Duneagle, in Scotland. Rose's relations with her parents are very mixed. While she and Shrimpie get along beautifully; she and her mother hate one another completely. Susan has more liking for her older children and not for Rose, as she was more rebellious and independent minded.
The moment Rose moved into the Abbey, her mother had connived to take Cora Crawley's lady's maid, Sarah O'Brien with them to Mumbai, India. This made Rose feel guilty, so she filled out an ad for a lady's maid. So, kind of without knowing it, she would bring in Edna Braithwaite, a woman who had caused trouble for the Crawleys before, but Rose had no idea what trouble she caused.
Like Sybil, Rose got involved with causes. She became a great help to the family, although she was still a bit rebellious. She would become involved with a black band leader named Jack Ross, who rescued her from embarrassment when her suitor, Sir John Bullock, would run off the dance floor sick. They would be briefly engaged, mainly for her to stick it to Susan, but Mary convinced him to break it off.
She would later meet a young man named Atticus Aldridge (Matt Barber), the son of the newly minted Lord and Lady Sinderby (ne Daniel and Rachel Aldridge). While Rachel was in approval of Atticus and Rose being together, Daniel was not, as he felt that Rose would not be Jewish, although he had some respect for Cora, as her family was Jewish.
Despite the antics of both Lord Sinderby and Susan (who tried to ruin Atticus with a tart and paid off a photographer to take incriminating pictures; and then announcing that she and Shrimpie were divorcing), Rose and Atticus would marry and the marriage would go off without a hitch. Rose would later give birth to a daughter named Victoria Rachel Cora (the Rachel would come in honor of Lady Sinderby; and Cora would come from Lady Grantham).
Community content is available under
CC-BY-SA
unless otherwise noted.