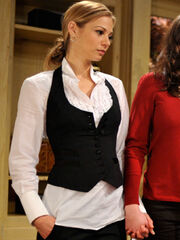 Reese Williams is the character on All My Children. She is the currently being played by Tamara Braun. Tamara enter on October 30, 2008 after the torandos hit Pine Valley.
Character's arrival
Bianca had mention Reese many times on the show before the character coming to the show. Reese and Miranda come up to surpise Bianca after learning about the tornados that hit pine Valley. Reese met her daughter for the first time along propose to Bianca. the couple got engaged and are planning a wedding.
Reese and Bianca are overcoming the biggest thing in their relationship right. After learning that Reese lied to Bianca telling her that she never had a boyfriend and had a fiancee`. What is worst than that Simon had come to town and told Bianca everything.
Family
Parents
Forrest Williams (father)
Claire Williams (mother)
Martial status
Children